On 05.07.12, In Abortion, Events, Florida, Government, Issues, News, Personhood Petition, Prayer, Prayer, ProLife, Rally, Reformation, Repentance, Revival, by Brenda MacMenamin
I just want to share my thoughts about how blessed I am to be a part of the Personhood movement. Not even a month ago, Personhood Florida came to Tampa to educate us on the Constitutional Amendment and it's significance. There were 6 bodies present, representing 3 different Counties in Florida – and one HUGE Holy Spirit moving among us.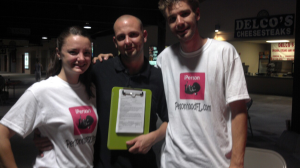 We know that the number of people doing God's work has nothing to do with the outcome. 6 people on fire for Christ and justice is so much bigger than hundreds of people sitting around doing nothing!! He has gone before us to make a way. All we have to do is move!!!
So, the 3 of us representing Pinellas County decided to go out together on the National Day of Prayer (May 3rd) and attempt our first petition run. We got another friend involved, so with a team of 4 we went to Brighthouse Field in Clearwater where there would be hundreds of Christians praying for change in our country. None of us had ever attempted this before but we knew being equipped with the Holy Spirit was all we needed. I think we were all satisfied to get just one person to sign the petition but we ended up with 40 signed and tons of confidence to keep getting more. I'm excited to see what God does through us and I'm very thankful for your guidance as we champion for the unborn together!!
Psalm 103:6 "The LORD works righteousness and justice for all the oppressed"
Standing strong for life,
Laura, Bryan, Ricky, and Chace
Personhood, Pinellas County FL